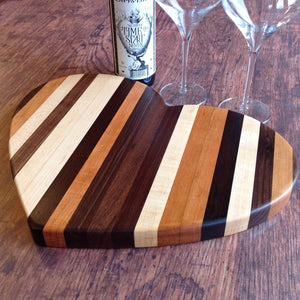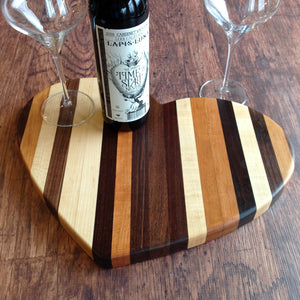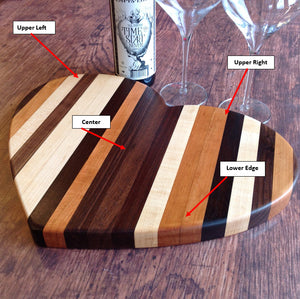 Each heart shaped board is handcrafted using high quality American hardwood,  Walnut, Cherry, Maple and a touch of Peruvian walnut. Since these boards are handcrafted, no two boards will look alike.
The heart boards make a really special and unique gift for Valentine's Day, Mothers Day, birthday, graduation day, engagement gifts, wedding gifts, anniversaries, Christmas and more. It can be used for everyday use, cutting and chopping or for serving food, such as charcuterie, to display a cake or cup cakes and more.
This board is 13" x 17" x 1-1/4" thick and is hand sanded to a smooth finish then finished with numerous coats of 100% food safe finish. Makes a very nice gift!
The heart shaped boards are available blank or can be personalized with your choice of words and font. Personalize your board to make it a special gift with love. Engraving includes up to two lines, max characters and spaces is 28, font size no larger than 1/2". Many items look nicer with a slightly smaller font so font size will be engraved according to item and location of engraving. The more characters and spaces, font size may need to be smaller.
There is an extra cost for engraving logos, a high resolution 'line art' .JPG file is required. Email me for custom pricing.
Keep this board looking new by regularly applying applications of our Wood Conditioner or mineral oil no less than monthly. Care instructions are included with every order. Wood Conditioner is available in 2 oz. tins on my website.

All items are made to order and typically ships in 7-10 business days possibility sooner. Please be aware this can change daily based on orders received. If you require an item to be made by a specific date please email me.
You will received an email when your order has shipped along with the tracking number.
Wood Care & Maintenance

All trays, kitchen accessories, wood accessories - cutting boards, charcuterie board, etc., are finished with Michael's Wood Conditioner. It is a 100% food safe oil and 100% food safe beeswax mixture, all 100% pure natural ingredients. The Wood Conditioner will penetrate the wood and revive the surface as well as create a moisture barrier. Allow the Wood Conditioner, mineral oil or Walrus oil to penetrate through the wood fibers, overnight is best, wipe off any access with a cotton cloth.

When your wood seems to have lost it's luster from normal use and the dry air of household temperatures, apply an even coat of Michael's Wood Conditioner, mineral oil or Walrus Oil to all surfaces.

• Boards that contain resin are not cutting boards, do not cut on the resin. Use as a charcuterie board.

• DO NOT place any wood items in the dishwasher, DO NOT allow moisture of any kind on wood for a long period of time.

• DO NOT allow moisture to be trapped between the surface of your wood and the counter.

• DO NOT use a steel brush or scraper on the wood surface. Use 320 grit sandpaper to remove any dried food on surface.

• Wood Conditioner, mineral oil or Walrus oil will NOT remove food odors or food stains. Once food odors are in the wood they are very hard to impossible to remove. Surface stains can most often be removed depending on the type of stain. The process to do this can be found on my website.

• Knife marks cannot be removed, when cutting on your board, distribute your cutting over the entire surface so that your board will wear evenly.

• Store your handcrafted wood items in a clean, dry place away from heat such as stovetops and food products.

• If the wood gets wet, dry the surface immediately with a clean towel. Then allow the wood to air dry upright. Do not stack or lean wood against another surface while drying. Do not leave in standing water, this can cause the wood to warp, split and can cause discoloration. After drying apply Wood Conditioner.

• Apply a liberal coat of Wood Conditioner, mineral oil or Walrus oil frequently using a lint free cloth in the direction of the wood grain. Allow to penetrate the wood, overnight is best, wipe off any access with a cloth. DO NOT use vegetable oil, olive oils, etc., they will turn rancid quickly and permeate your wood with an unpleasant odor.

 

Just a note that I will gladly re-finish your board for you. Please contact me by email to discuss the options. MichaelsWoodcraft@Yahoo.com

We ship within the United States and Canada only. The total shipping cost is based on your delivery address zip code, weight of package, commercial, residential or extended rural residential delivery for ground service. If you would like a service other then ground, please let me know. We do not make money on shipping, the shipping cost we give you is what we have to pay.

We do not ship to PO Box addresses and we do not ship USPS. Our preferred carrier is FedEx.

 

NOTE: Insurance is available for each package shipped at additional cost but you must request insurance when requesting ordering details.